---
HONDA SHADOW SRX PAGE
---
Shadow SRX50 and Shadow SRX90

The Shadow Scooter!
(This is loosley translated from an Italian web page advertising this bike.)
For those who want that custom look, or just to be cool, Honda offers a custom scooter! (in Italy)
The scooter takes it's inspiration from the VLX 600 and ACE 750 which were, in turn, inspired from a cross between a chopper custom and a heavy duty cruiser, they each have a style that does not go unnoticed.
Its body is mainly plastic (so, it won't rust!) which extends backwards, resembling, if anything, the back of a bee! Plastic with chrome attachments, like the wide curvy handle bars, (perfect as something to fiddle with when you get stuck in traffic, or just a boost to one's ego (they are so wide)). They may not be the most practical, but they sure do attract people's attention!
This Shadow has all the comforts of a modern scooter. Models: SRX50 and SRX90. Features Include: Aerodynamic design, front disc brake, chassis made of steel tubes, alloy wheels. It is available with a 50cc or 90cc motor.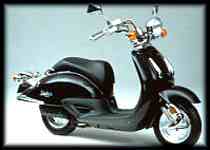 ---