---
Shadow VT 1100 Owners Page
---
Robert Orsino - a.k.a. "Outlaw"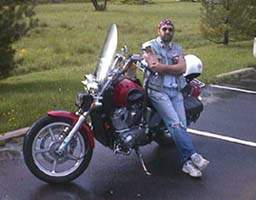 And my 1996 Shadows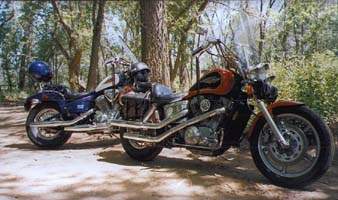 ---
The Greer Family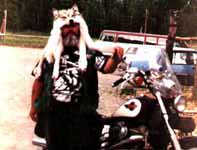 I have a '93 1100 Shadow and my wife rides a '93 600 Shadow. We have about 75,000 Kilometers on them. We live in Oshawa Ont. Canada. So far we have been to Cold Foot Alaska (above the Arctic Circle), Labrador Newfoundland, Mexico, All the American States that we could reach by land, All the provinces and territories of Canada. Our final goals in North America are Banff and Jasper Parks Canada, To travel all around Mead Lake and see the London Bridge, And to visit the Sequoia Park in California. These are places we somhow missed. I am sending a picture taken of me my bike and what could have been the worst wild life accident in Tok Alaska in 96.

TRAILER HITCH

## Now I have a question maybe you or one of the other Shadow Owners could help me with. I am getting a little old for the pup tent and wish to add a KwikKamper to my travel's. The only problem is I have no idea how to put a trailer hitch on my bike and can't get anyone to do it till the end of bike season. I am a welder fitter by trade and am competent enough to do the job with help. If anyone has added a hitch to their 1100 I could use some pictures, prints and advice on how to do it. ##


Raymond Greer colleen@idirect.com
---
Brian Forton
Brian has been busy. He has been customising his Shadow forever, and it shows... Here is a picture of when he was working on it...
Well, Midnight is all done now, and he's out riding it! ... and its FOR SALE!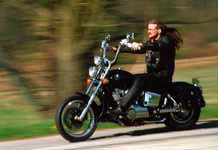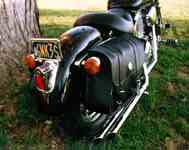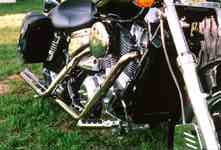 Incredible development: MIDNIGHT (above) IS FOR SALE!
Contact: Brian Forton TAZZBIKER@aol.com Midnight is FOR SALE!
---
Magnus Ingi Magnusson
This is another "Biking Viking" from Iceland and his VT1100. I have chatted with him sometimes downtown Reykjavik, and he finally sent in a picture of him and his bike.
---
Hans Boender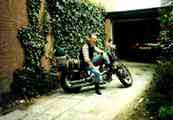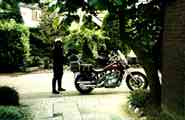 Pic1 Pic2 .
Lets rock'n'roll people! This guy is from Holland... and when he's not looking after the 2 AS400s at work (by the way, those are computers), or playing guitar, or fooling around with Anneke... he loves to ride his Shadow... he writes the following:

Hello World! I'm Hans (see Pic 1) and thats Anneke (Pic 2), my love. I also love to ride that bike. We are members of the Shadow MC and are gonna ride a lot with that club in I hope...

In Pic2 Anneke and me just packed our things for a two day ride through the middle of Holland. We do a lot of riding and camping... this ride was the weekend before we went to Belgium, France, Spain, back to east France, a little Germany, Luxemburg and back to Holland. That trip was 4130 kilometers. We used the same luggage as in the picture but I used also a fuel tank-back. I still have a very good feeling about that trip...

The day after Christmas I took my fuel tank to the dealer for repainting. On 15 Jan. 1997 I got it back... and since that day I have already ridden 1200 km!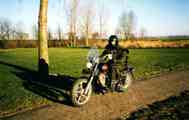 Pic3
I can't help it... I'm a RIDING JUNKIE! Pic3 was taken on 24 december 1996 it was -12 C degrees Celcius BELOW zero. We rode for 1 and a half hours... and when we came home we stood for 2 hours in front of the heater to get warm again. But I had my ride and that's all that matters! Alright! Here I am: Hans Boender TheRoad@cefetera.nl
Hans also wrote an ANUS for us.
---
The Breeze

From Manchester England, England... Here is a pic of me on my 1990 Shad. I've had it over 3 years unfortunatly We both ended up under the back of a car some months later (TIP. If you want to get rapid treatment in A and E, bleed profusely over the floor). Its then you realize how expensive owning a grey import is with no dealer back up or support. Its dark bike (Indian Lake Blue!) but to the world: Black (on a dark day). *Why did the sun only shine in the '60's*

HOC
Honda Owners Club (of Great Britain). I'm Branch secretary of The Mighty Morphin Manchester Branch. There are about 4000 of us nation wide but only 10% are active members. The rest join for cheap insurance.

Yours the Breeze: mushroomman fly.agaric@virgin.net
---
David and Mallory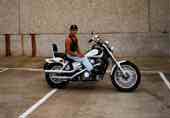 Here is a picture of me and my 96 VT1100 Shadow, Mallory Mary Jane. She has a custom Yin Yang paint job that really caught my eye. It was love at first sight. I just had to make her mine. She also has a customized seat, and I soon hope to get her after market pipes for that rumbling sound. She got her name from Mallory Knox in Natural Born Killers. Most non-riders think all bikes have the potential to be Natural Born Killers. :) Mary Jane is also slang for Heroin and although I've never used Mary Jane, I am addicted to my Shadow. So there you have it, "Mallory Mary Jane".

Since our courtship started in June 96, we've gathered 6800 miles. She is my sole means of transportation. She gets me to work everyday (12 months a year) and she has taken me from Texas (my home) to Pennsylvania and back. That was my first major road trip and the beginning of an everlasting relationship... till death do us part.....................

Ps... keep up the good work Stonie. Love this web site.

David: Tag491@aol.com
---
Paul McDaid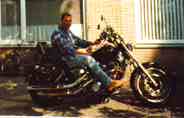 It looks like you mainly got Shadow owners from the USA. Now... to complicate things, I am a Scottish Shadow rider living in Holland (NL), and am a member of the Dutch National Shadow Club. I've attached a picture of me and my baby, then there are two of just the bike (see the VT Gallery).

During the summer I use my bike every day to get to work, even though I get some funny looks... How often do you see a guy weaing a 3-piece suit riding his Shadow to work?

There are many Shadow riders in Holland, in fact, there are approximately 1000 registered members in the Dutch Shadow Club.

Ride safe

Cheers
Paul McDaid pmcdaid@bangate.gor.eur.compaq.com
---
Richard Harrod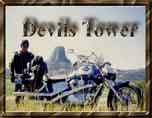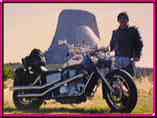 Richar Harrod here, I live in Gillette,Wyoming, just a short ride from here is Devils Tower Nat'l Mon. This is some beautiful country to see. I ride whenever possible short summers and long winters here in northeast Wyoming! I get a lot of compliments on my shadow everywhere I go.
Richard Harrod: rjharrod@vcn.com
(-: See more pictures og his bike in the Shadow VT 1100 Gallery :-)
(-: Editor's Note: Love pictures like this: The rider, the bike and the world famous landmark. Excellent!-)
---
Tim Palka or "Dawg" and Wife Marie
Tim is the president of the Chicago Chapter 12 of the Shadow Club U:S:A, and maintains a home page at: http://members.gnn.com/tpbiker/dawg.htm His signature:

Tim "DAWG" Palka
President Shadow Club USA Chicago Chapter 12
'93 SHADOW VT1100 (THUMPER)
Anyone can cast a shadow, But it takes someone SPECIAL to ride one!
---
Steve Jordan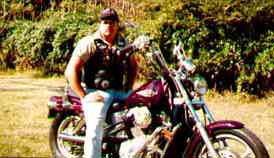 Hello from Kannapolis, NC!

My name is Steve Jordan, S.E. National Rep, as well as, President of Chapter 03 for the Shadow Club USA: A national riding club that promotes the best low to no maintance M/C out here, The Honda Shadow, and brotherhood of all those who ride to enjoy and enjoy the ride!

My '95 VT 1100 has 2" Cobra Drag pipes " with no baffles". The 10.5" rise handlebar "mini ape hangers" are Dyna-wide glide handlebars from Custom Crome. The horn cover is an breather cover for a Harley, the derby cover is the Magnum style from Limelite Electric Industries, a custom made leather tank cover, anti-vibration mirrors, turn single grill covers, highway pegs, extra large handlebar grips and cruise control "For those long rides".

I would love to hear from you to swap biker stories, pictures, or info about the Shadow Club USA.
I can be reached at Shadowman@ctc.net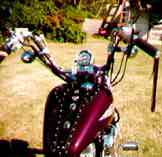 (Although I am cramped for space, I had to show you what Steve sees when he's out riding... In my opinion he's done a great job on his bike... Which looks unique... which is whats its all about isn't it? Making your mark on the world, while making a few people happy on the way. Send him mail at the following eMail address: Steve Jordan Shadowman@InfoAve.Ne

Steve says: Anyone can cast a shadow, but, it takes someone great to ride one!

So you like the way his bike looks? Well... he's been busy... Check out his projects at:
http://www.shadowclubusa.com/faq.htm
---
Mark Beluscak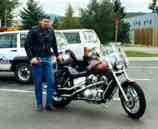 This is Mark Beluscak and his '94 Shadow VT 1100... He writes: I work for the Silverthorne Police Department in the investigations department and love to ride whenever I can in the short Colorado riding season!

Myself and about five other cops in the Summit County Colorado area like to get together and ride. We recently took the whole group of us up to Rocky Mountain National Park for a huge overnight trip. It was great to see all those motorcycles (Two Shadows, two sport bikes, and a Harley Sportster) roaring up the valley toward some of the most beautiful scenery on Earth. Anybody out there in Shadow land feel free to stop in or visit myself or Sgt David Palacios, another Shadow VT1100 rider. We'll take any excuse to tour around here! Sound good? mbeluscak@geocities.com
---
Guillermo Gutierrez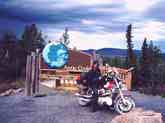 This has to be one of the most amazing pictures we've ever received... A Shadow, the owner, and a world famous land mark... Ladies and gentlemen, I give you: Guillermo Gutierrez at the Arctic Circle! All he has to say for himself is: Last July I took my Shadow to the Artic Circle, in Alaska.
I hope you like this photo. (We love it!) Tell him at: gg@redshift.com
This is the best of Guillermo... if only we all had such picturesque backgrounds for our pictures... Guillermo has a home page at: http://www.redshift.com/~gllgtz or mail him at: gg@redshift.com
---
Sylvia Thornton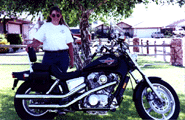 Hi, I'm Sylvia Thornton and I am from Bakersfield, CA USA. I love riding and ride almost every day even if it is only back and forth to work. I really enjoy touring and seeing the country on motorcycle. My e-mail address is ShadoRyder@aol.com, and would welcome anyone to send me an e-mail.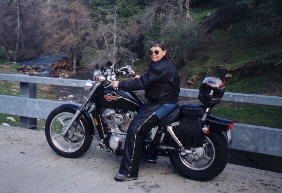 This picture was taken about 3 weeks ago on the road to Glennville, CA about 25 miles from my home. I was on a ride with some new friends that I met when I joined the California Sunblazers chapter of Women on Wheels. There were 8 of us on that ride, 7 women and 1 man!! It was a nice day and a good ride. http://members.aol.com/shadoryder/private/shado.htm
---
Joe Garzik


and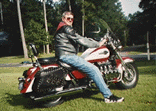 This man has taken the lyrics: "The best of everything"... literally... I mean, what do you give a man with everything? What am I talking about? Well, if a Shadow VT 1100 and a Valkyrie wasn't enough, he's got a ST1100ABS-TCS too! ... When you're through envying him, how about a little respect? ... Hehe... Below you will find his impression of the Valkyrie... and his eMail address. He's living a dream most of us would like to be in! I think...
The Joe Garzik Motorcycle Collection just got bigger ... jgarzik@skantech.com
---
Terry Speaker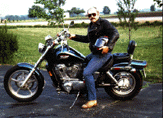 Terry J. Speaker, stuck indoors because of bad weather... tsk, tsk... at least he looks happy in the picture... He hails from Wisconsin. Hope the weater clears up to allow you to get out on that long and winding road... want to cheer him up? spieker@earth.inwave.com
---
TheStone / icelandknight ... Finally!
Alright! Its black and white. Alright!Its a crappy representation... but its the best I could do given my tools here! Hey, come on I'm doing the best I can with the stuff I have at my disposal! OK? The myth is dispelled, this is me (Thor aka. TheStone) on my Dark One... or Black Beauty, as "she's" sometimes been called... ain't she pretty? Well, I know at least one guy who's got the hots for her! ME! thestone@unforgettable.com
---
Doug Dickson
This is Doug Dickson from Louisville KY, and his black Shadow... This is the kind of photo we would like to see more of... The Famous Landmark, The Cool Dude, The Incredible Sunshine, The Beautiful Bike... which is a 1996 1100 Shadow... Doug is an active member of CMA (Christian Motorcyclist Association) and he's been riding for about 30 years! Woah! We all wish we were there, Doug!
---
Dennis DeFendi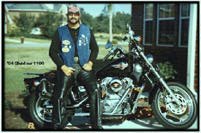 This has got to be the coolest dude I've got a picture from! His name is Dennis DeFendi, and his Shadow has been carefully customised to the uniqueness we all crave. You can see him riding around Charleston, South Carolina. He's ridden it just over 22,000 miles. Dennis has a bit of a history... he left biking 28 years ago, but is now back... more than ever! ... I can't leave you guessing what he's done for his bike... here is a list of some customizing he's done: Willie and Max tool pouch and saddle bags, Clutch/Brake Lever braids by Iron Braid, Honda engine guard with highway pegs, Cobra Drag Pipes and Horn Cover, Corbin Gunfighter saddle, and a honda luggae rack. Some mods not in picture are National City Cruiser Shield for winter riding, Rider seat back, chrome brake rod, new gas tank paint job .... wanna ride wi' 'im? Dennis DeFendi
---
Don Andrew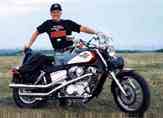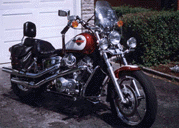 This is our brother, Don Andrew the proud owner of this '94 Shadow. He affectionately calls her "Susie", and rides with the "Retreads", which is an over 40s club.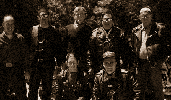 Here you can see an "old" picture of the Retreads as they were way back in June 1995. This picture was taken down in Lage George New York at the "Americaide" Rally. dandrew@netinc.ca
---
Jim "KickStand" Russell & Sue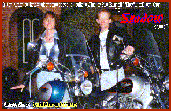 This is Jim "Kickstand" Russell (Communications Director of the Shadow Riders Club, Plano Texas) and his wife Sue, in company of their two '92 VT1100 Shadows. So, now at least we know we have a sister out there... contact him and the Shadow Riders Club here: jrussell@server.iadfw.net
---
Lester Crump (Details have changed: See the News Page)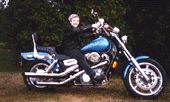 This is the much adjusted and customised 1988 Shadow VT 1100c of Northern New Yorker, Lester Crump. Its his second Shadow, and he's made some radical adjustments which include: Drag pipes, lowered passenger pedals, Desperado seat and tank chap, as well as adding lots of small chrome. The young man on the right picture is his son (at 8), whom he hopes will keep the tradition going. No doubt about it, from the look of things! Like the bike? Talk to him at: more4les@slic.com
---