Terry and Linda Crawford Present:
SHADOW SPIRIT OWNERS PAGE
---
Terry and Linda Crawford
Here is a photo of Linda with the bike on a trip last summer to Unicoi State Park in Ga.
Its a 97' Spirit. Looks like a huge bumble bee. (yellow/black) I ordered the rest of the parts today. I'll have about $1500 in accessories when they arrive. The light bar instructions said they could be installed in just a few minutes. (it took 4 1/2 hours) I hope the rest of the parts are easier!
I had a photo of me by the bike in the same spot but my wife takes a much better picture as you can imagine.
I worked all day yesterday installing the balance of my accessories. the total is $1,139 now I think. I would buy more but theres not much more to add that I want. I thought about freeway bars but I need to see some really good photos from different angles or better yet in person to make that decision.
I was going to send you a better photo of both of us by the bike if the sun ever shines here again. (el-nino) with all the accessories on. A lot are subtle though and you wouldn't notice unless you had a bike like it. (Chrome dip stick, oil cap, brake resovoir cover, bag protector, license plate frame, brake rod, speedo mount. the windshield, light bar, cobra pipes, saddle bags, fork bags show up pretty good though.)
Terry and Linda Crawford: XCRAW@aol.com
---
Log Dog
Very soon after purchasing my bike I came across your web site. It cought my eye because it is dedicated to the best darned motorcycle out there.... The Shadow!!!!! I have put many hours into her and I see so few modified Spirits out there because people dont know where to find the parts or are unwilling or unable to pay the ungodly prices at the local Honda shops.
Here is my addition to your wonderful page. My baby is a 97 Honda Shadow Spirit 1100. She started out as a brand spanking new bike off the lot in July of 97. She has grown to her present condition with lots of love and much fabrication and a ton of help from some real cool Harley guys form the Central Texas area. Here is a list of changes made
I have put up all of the pictures that I have...
- Pic 0 - Pic 2 - Pic 6 - Pic 7- Pic 8 -
A quick note to all those Spirit riders out there. There are parts for your bike out there if you take time to look. Or e-mail me at swells@vvm.com or logdog@biker.com for more info on where to aquire some of the stuff your dealer says is just not out there. Or for modification tips for your Spirit.
LogDog: logdog@biker.com
---
Hendel Thistletop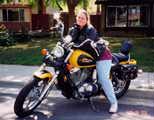 I was looking around on the web for a windshield to put on my bike, and ran across the Shadow home page. Here's another picture from a proud Shadow owner to put in the gallery. My 97' Shadow Spirit 1100 is so new that I don't actually have the pictures of myself on it back yet, but my sister Darkwind looks pretty good up there, eh? Thanks for a great Shadow site (your links have been especially useful). Didn't see any Shadow clubs in the Southern CA (Riverside / San Bernardino) area listed, though. Would love to hear from any local fellow riders.
hendel@ix.netcom.com
---