---
Shadow Ace 750 Owners Page
---
Dennis Welch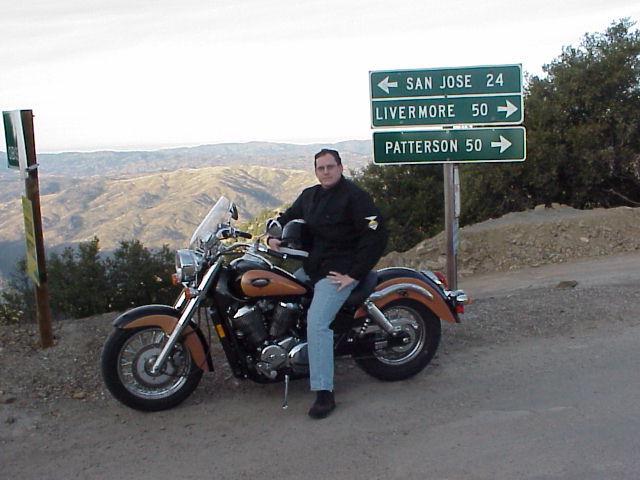 Since these pictures were taken Dennis has got himself an Aero! See the Aero Owner's Page for some more pictures of Dennis & his Shadow Aero.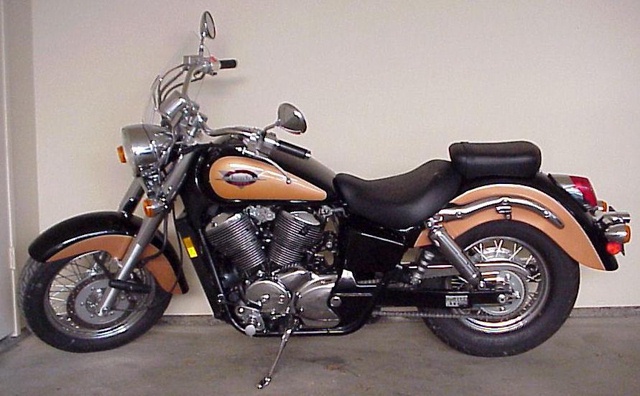 ---
Robert W. Schneider
You saw his bike on the Shadow News Page? Well, here is Bob himself... with his new Shadow ACE 750... and one can understand his great joy, as that one great looking bike. I can forsee the 750 doing good things in months to come. It strikes a compromise without looking it. Ever wonder: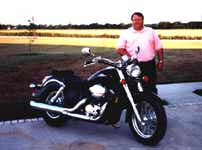 "How did you get that bike, Bob?"
Bob: Well, I guess to start with, I have several co-workers that ride Harley's, and I have always liked the style of the "Fat Boy" of course made by Harley Davidson........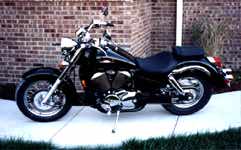 So I started shopping around, and a 1 to 3 year old FatBoy was running from 17K to over 20K, and yes that is in the thousands.......Well I'm going to be 41 years old in September, and I have two high school kids, that both need braces on their teeth, and I, like everybody, have my fair share of bills to pay, and my wife is the one (fine lady that she is), who goes through the drudgery every month to pay those bills......Well, to say the least when I approached her about a bike she was fairly open to the idea until I told her the price of the Harleys......
So, it wasn't very long before I realized that it just wasn't politically correct, at home, for me to have my sights set on such an expensive bike....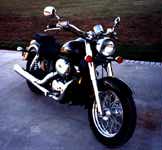 I happened by a local Honda dealer one afternoon, to look at their used bikes, and I really like the classic styling of the 1100 Shadow Ace's, but here again the used 1100's were running between 7,000 and 10,000 dollars......When I explained to the sales man my frustration, he said: "Why don't you come in the shop, we are about to un-crate a brand new 1998 750 Shadow Ace"... Well, I thought to myself, sure, let's go take a look... As I stood there watching them un-crate this totally black machine, I remember thinking, this looks too good, it will probably cost a bundle... and so I had to leave to go home, but I told them I'd be back tomorrow to see how it looked all put together......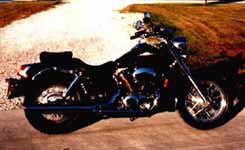 I can not tell you my excitement when I came back the next afternoon, and saw the bike all put together. My heart was doing flip flops, but my head was still thinking: Don't get your hopes up it will probably be too expensive... So I finally asked the dreaded question: "HOW MUCH?". The sales guy said: "Well... I think it's somewhere in the 7K range, but I'll have to go look it up". Well, he came out of his office with a big smile on his face and told me it was $6,599... and I said: "Wrap it up!" He said: "Don't you want to drive it first?", and I said:
"There will be plenty of time to drive it when I get it home, but yes lets go take it for a spin ..."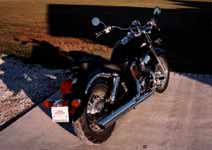 So fellas, from my perspective I got the Big, Black, Chrome Bike that I wanted. With the style, that to me, rivals the "Fat Boy", and that is not copying it, as, lets face it, I have ridden a Fat Boy, and this Ace is a much quieter, and smoother running bike than any Harley that I have been on... and I do not mean that to be a slam... Just fact!!! But I got the price that my family was able to live with, and I got a Great bike!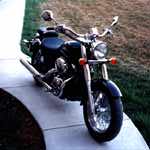 I guess to sum it all up:
Great Bike, Great Price, Great Style, Great Ride, and I am one Happy Shadow Owner... a smoother running bike...
Robert W. Schneider: roschnei@cisco.com
---