---
SHADOW ACE OWNERS PAGE
---
ACE Owner Links
---
Billie... or affectionately... "Grandma"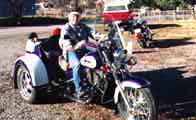 Hi there, this is my 95 Shadow trike. Hope you like it. I sure do. I have only had it since last June and have ridden it almost 10,000 miles. I am a 56 year old grandma who loves her motorcycle. Have been riding bikes since 1970 and loving every minute of it. I started out on a Puch, and have 20 motorcycles now, including a Z50 and several sized bikes all the way up to a 1500 GW with 2 passenger sidecar.
This from Billie: billie@nextdim.com
---
Marty Patterson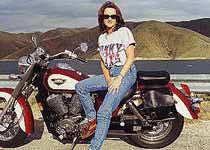 This is my fifth motorcycle. The last street bike I had nearly did me in. It was 1976 and I was 19 my wife (pictured) was 17. I was on a Honda 750-four she was on the back holding me tight. A car pulled a U-turn in front of us, we were going 60 mph. We were lucky and had only minor injuries. The bike was totaled. After a few trail bikes you can now see that my wife and I are once again enjoying the open road on my new 1998 Honda Shadow. I guess you could say she really trust me, to get back on the highway again. It's a great feeling to cruise the Rocky Mountains here in Boise Idaho. If your ever in Boise look me up, we'll go for a ride.

Marty Patterson: MWP8246@idahopower.com
---
Christer Eriksson
Hi there! This is NOT Christer or "Krell" as he is nicknamed, here. My name is Micke Ekeberg... I am a friend of Christer (featured above). Who bought an "Ace" last fall. He has been "upgrading it" with, for example: A Vance & Hines exhaust pipe ´n new jets for the carbs.
Ever since I told him about the "Honda Shadow Home Page", he has been on my back to have me take some pictures 'n send them to you. Well I've just done that, with a "Canon ION" (not the world best digital camera *ahem*).
His name is "Christer Eriksson" ´n lives in Karlstad, Sweden. He doesn't have an e-mail address at the moment, so if there´s anything going on when it comes to Shadow ACE (real or virtual), mail could be sent to me (mic@xpress.se), ´n I will forward it to him.
I read about your dilemma about webspace so I include links to the full size pictures, which I have stored in an area that my internet provider has allocated to me, (normally used for home pages).
If you would be interested in more pic´s of the bike alone (sorry to say it´s the same quality (the pic´s I mean)), mail me ´n I´ll upload a few more in my end.
Bye, Mic.
Micke Ekeberg: mic@xpress.se
---
Rick Scriven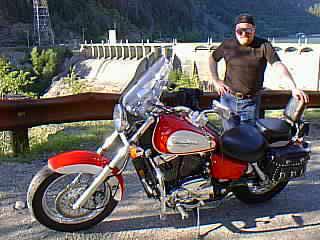 Hello again,
I am sending you a couple of new pictures. One of my wife, Holly and myself and the other of just myself with my Shadow ACE. In the background is a picture of the Diablo Lake Dam, from the Cascade Mountain Highway, in the North Cascades, in Washington State. This is a wonderful day trip, about two hours from the Seattle area. There is an old resort there that has turned into a ghost town. It's always very quiet and rather eerie!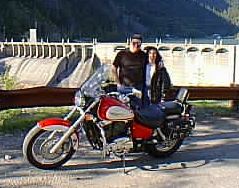 The water over the dam itself falls about 150 feet into the gorge below and passes two towns, Diablo and Newhalem, built for the people that work for the power company. Above the lake is another dam, the Ross Lake Dam. To get to it one has to take their boat or ride the power company's tour boat. Above that dam is Ross Lake, it runs about 30 miles north into Canada. Both lakes have "boat access only" camping. The views are spectacular, the ride is wonderful, and there are always interesting people to meet.

-Rick: rscriven@premier1.net
---
Jan-Steffen Kruessel, M.D.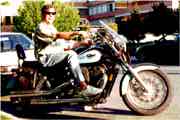 Hi there... here a picture of my Shadow and me. I'm from Germany and am currently working on a research-project at Stanford, where I will stay until the end of '97. If anybody wants to ride with me, you can put a link to my e-mail and web-address on the page. (Keep on with the nice work!)

Yours: Jan ;-)

Jan-Steffen Kruessel, M.D.
Stanford University Medical School
Reproductive Immunology Laboratory
Department of GYN/OB
http://www-leland.stanford.edu/~krussel
---
Rick Scriven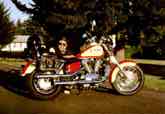 My name is Rick Scriven and I am a fourth grade teacher in Washington State in a little town near Puget Sound. I have been riding for about twenty years but I have been impressed with the Shadow since it came out. I finally mortaged my wife and children and bought a '96, 1100 Shadow ACE- this has been a dream come true for me for years now. I kept a picture of it on my computer (still have it) and I looked at it daily. It was such a joy to finally buy it last July. I even got the color I wanted, red! I have taken several trips already. My favorite trip was traveling on interstate 84 along the Oregon side of the Columbia River...lots to see. I have also driven up and down the Interstate 5 corridor and visited the many sights there. Among them are Mt.St.Helens, Olympia and Seattle, and of course Portland. My wife or one of my three children always joins me and we have a ball.
I hope you like the picture. Rick Scriven rscriven@premier1.net
---
René Joyal ACE Rider No. 1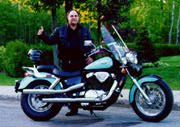 René was the first ACE rider I heard from. He runs motorcycle tours called Moto Evasion in Canada. He wrote: The city I live in is named Trois-Rivières- Ouest, and is located exactly half-way between Montréal and Québec City, on the St-Lawrence Seaway. Hope some day you can come and ride through this beautiful country. Just for your information, I also operate a Motorcycle Tour Business (with Shadows of course) here... you can learn more about it if you visit Moto Evasion... I have also recently joined the SRC-WW. Contact René at: rjoyal454@infoteck.qc.ca
---
Rockin' Dan is In The Wind!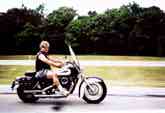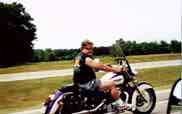 This is Dan on his ACE. He says: I am in love with this bike and have put a tremendous amount of work into it. The Shadow is one of the most beautiful bikes I know of. Please feel free to e-mail me at any time. I would love to see other bikes like mine and Rocco's here. (Ed: So would I... Tell him what you think at): rokindan@newreach.net
---
Farol N. Tomson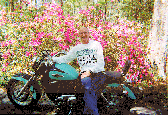 This is Farol and his ACE... in beautiful flowery surroundings... visit him at: http://www.afn.org/~afn01795/farolbik.htm He also has a nice collection of motorcycle links and lots more. Say hi at: afn01795@afn.org
---
Rocco Cerullo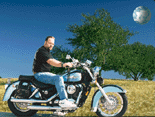 This is the first ACE pic we got! ... and its is ace! MORE LIKE THIS PLEASE! This Ace belongs to Rocco Cerullo, who is looking to start a SRC Chapter in Sunrise Florida. If you live near him, please join! The more the merrier, man! ... He's only had her for 5 months, but has already made quite a few changes: Targa front and rear fenders, Vance and Hines fishtail pipes, Cobra headlights, chrome calliper cover, chrome handlebar clamps, studded seats, leather tank chap, Tombstone rear tail light, custom saddlebags, chrome drive shaft cover, Heritage front fender light (which fits perfectly on the new Targa fender) and other chrome pieces.... are you taking notes yet? He's at: rocco@pop.gate.net
---