TheStone Presents: (-: 22.Mar.98 :-)
Shadows for Sale Page
---
This page exists mainly to give people an idea of what is available out there, and at what prices, this page aims to inform, rather than advertise. Please contact the links below to Advertise your bike on the net, as they are specifically designed for that purpose. The Honda Shadow Home Page is not a commercial site, while many of the ones below are.

---
TOUR AREA
---
TOURS OF A LIFETIME
These are companies that offer tours by motorcycle in very memorable areas of the world. You could eigther bring your own bike and take part in the activities, or they help you hire bikes for the trip (the more popular option, as you get to try different bikes)...

Moto Evasion Tour Canada on a Shadow... Woodlands, motels and

Australia! Australia! We love you! ... Tours the Australian wilderness.


---
SHADOWS FOR RENT!
There is a company located in Phoenix, AZ that rents Shadow ACE's all over the USA and Canada. Thought it might be of interest to you.
Cruise America, Inc.
11 West Hampton Ave.
Mesa, AZ 85210
Fax: 602-464-7302
PH: 602-464-7300
Source: The Anony-mouse!

---
MAGAZINE AREA
---
Magazines have started appearing that are specially for us Cruiser riders, and here are two I have heard of... Please write to me if you know of some more that are for Shadow riders

BLVD MAGAZINE (Cycle Magazine's) - DISCONTINUED -
(This information comes to you care of Phil Scott)
Published bi-monthly (one every two months, 6 issues a year). Production Office: Hansen Communications Inc. 11435 North Cave Creek Road, Suite 101, Phoenix AZ 85020, USA Phone: 602-997-5887 Fax: 602-997-6567, eMail: bikemag@primenet.com and please tell them where you saw it...

MOTORCYCLE CRUISER MAGAZINE
(USD $3.95 News stand price) Special introductory offer for new subscriptions: USD $9.95 for 1 year (6 issues). Contact: Motorcycle Cruiser, P.O.Box 53566, Boulder, CO 80323-3566, USA. Canada & International add USD $5 for surface mail postage). Allow 4-8 weeks delivery time... and please tell them where you saw it...

(Moved from the SHADOW NEWS PAGE)
MOTORCYCLE CRUISER MAGAZINE
Those fortunate/unfortunate to have read my "Biking History" page (see my Home Page) will have read a plea for a MOTORCYCLE CRUISER MAGAZINE for us: easy riding, long and winding road using, heavy custom bike fans... Well, its finally here! A magazine just for us... I read about it in a bike magazine, and managed to copy this phone number off the advert... so if you are interested call: 201-451-9420 ... maybe you can tell them where you saw the number too, so they may look favourably upon our little shrine to the Shadow...
201-451-9420
MOTORCYCLE CRUISER MAGAZINE
According to the cover in the ad I saw, it features the Shadow, Valkyrie and lots of other cruisers. What more could you want? At last (I hope) an unbiased mag for all cruiser bikers...
Follow Ups: I've just got their first two issues although the cover says $3.95 they charged me a staggering $24... $12 each. *sigh* but it was worth it... I'm very happy with them, and am reading them little by little to make them last longer... They are only released as a trial to see if they will sell. Here are their details:
Motorcycle Cruiser, 6420 Wilshire Bldv., 5 th Floor, Los Angeles, CA 90048-5515, USA
Phone: 213-782-2230 - Fax: 213-782-2372 - eMail 70611.172@CompuServe.com
(We regret that we lack the manpower to respond to all correspondence)
MC Mag includes: Road tests, maintenance tips, news, ads, stories by riders, pictures, etc.

---
(Ps. Please note these Magazines are mentioned as a source of information, and do not promote these pages in any way. Hey! I just got an idea... do you think they want to? Anyone want to?)

---
BIKES FOR SALE AREA
---
Rick's Got A Brand New Bag...
I just bought some new bags for my Shadow ACE and I am interested in selling the ones pictured in: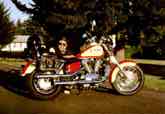 ? -Rick: rscriven@premier1.net
---
Brian Forton's "Midnight" - For Sale -
"Midnight" is a custom dream... Brian needs the money. When its a question of priorities, the family comes first.
Well, Midnight is all done now, and he's out riding it! ... and its FOR SALE!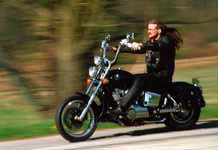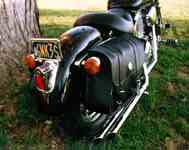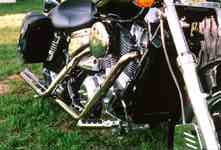 Incredible development: MIDNIGHT (above) IS FOR SALE!
Contact: Brian Forton TAZZBIKER@aol.com Midnight is FOR SALE!
---
Lambert in Hawaii
This is the bike of a Lambert from Hawaii... His friend Kalikikopa <kaneuila@gte.net> sent it in, and said this bike was for sale... Please get in touch with him about this... if you'd like to have this bike... Its got a really cool SKULL as the horncover... This should inspires some people... too bad its not a cover that is available as a standard custom item... Perhaps in the future?

---
Attention: BELGIAN BIKERS
Shadow VT750C for sale: US model from 1987 and has about 21.000 miles on the counter, dark red with highway steps, a removable windshield, BIG saddlebags, a removable luggage rack, updated sissy-bar and a tool roll. For Belgian buyers : the bike has passed the technical inspection and has obtained a "GVA" document. I'd like to get 140.000 BF for it.

I'm only selling the bike because I bought the VT1100 and my girlfriend already has a XV750. Otherwise I would have grown old with it or given it to her.
Check out my homepage at http://www.tornado.be/~mvc/

---
Another ACE For Sale:
I have a 96 Shadow ACE for sale. $7500.00 like new, black, 1000 miles. Located in Indiana, can deliver. Thanks. Steve 219-295-6403 or write to him at: steve@mv1.mvillage.com
(One of the best reasons to move to the USA, I think!)
---

This baby is now SOLD:
SOLD: 1996 Shadow VT 1100 (standard), red and white, 2000 miles, w/windscreen and extras, garage-kept, still under warranty. Southeastern US. $7000 US. (Joe has got himself a Valkyrie... check him out on the Valkyrie Page). Joe sold his bike to a guy who saw the bike HERE!!! Wahoo! He met the guy half way, and just wrote to me after his 570 mile trip to hand the bike over to the new owner... now there is another happy Shadow riding dude in the world!

---
Shadow ACE For Sale
With lots of extras check it out! Please!
ACE 4 SALE
---
WANTED AREA
---
I am looking for a good condition rotor for the front wheel of an 89 VT1100.

John Klinger
SC:USA 07 President
"Klinger, John" <cbsjrk@argbis.inrg.com>

---
Shadow Parts/Corpse Wanted in the Carribean
I am currently trying to bring back to life a 1985 Honda Shadow 500cc I am looking to buy a used one. It doesn't have to be running. I mainly need the frame as the one on mine is bent out of shape in the area were the swing arm meets the frame. If you could direct me to one or know of one please let me know... Its a Honda Shadow which was in a crash and I am looking for one to buy, to take two and make one. If you could help me I would appreciate it "preferable in the Maimi area" please contact: Gersham B. Charles skbroker@caribsurf.com

---
WANTED! 1987 Honda Shadow VT 1100 Contact: rkelley@rk.ma.ultranet.com

---
CUSTOM AREA
---
So You Want To Customise Your Shadow... Now What?


---
Motorcycle Accessory Warehouse
Have an on-line price list and ordering system.
---
Highway Hawk (Netherlands)
(These guys lay emphasis on the 600 Shadow as the 1100 is not readily available in Europe)

---
- Cobra Boulevard (USA) -
4915 E. Hunter,
Anaheim,
CA 92807,
USA.
Vox: 714-779-7798
Fax: 714-779-2191
Please please please tell them where you found their address!
(Cater for: Shadow ACE, 1100 VT, as well as 600)
---
TOP HAT
Provide Shadow Accessories
Want custom items at economic prices? Try Top Hat
www.msp.infi.net/~tophat or http://mh102.infi.net/~tophat/
---
Dennis Kirk Catalog Available Free from:
USA: 800-328-9280
Provides Shadow Accessories
---
PARTS

---
Bike Buying/Selling Net Places
---
Back to Shadow News Page

eMail TheStone